By Shihana Mohamed*
UNITED NATIONS | 31 October 2023 (IDN) — In 2020, the UN Secretary-General made formal acknowledgement that racism exists within the United Nations in 2020. He said, "Racism is the repudiation of our common humanity—of the Charter of the United Nations—of all that we are and all that we do. We must reject racism. But we have a long way to go. It is a challenge and a struggle for us all. Racism and racial inequality still permeate institutions, social structures and everyday life."
The United Nations Asia Network for Diversity and Inclusion (UN-ANDI) has been heartened by the Secretary-General's efforts to unite staff against racism and to take concrete steps to formalize his Strategic Action Plan to move cultural change forward within the United Nations.
To add its voice to this important initiative, UN-ANDI conducted a survey on racism and racial discrimination in the UN system in the summer of 2022 that was open to all personnel of the UN Secretariat and its agencies, funds, and programmes, as well as to the wider UN-ANDI membership.
At its General Meeting on 3 October 2023 (UN-ANDI) launched its Report on the findings of the UN-ANDI survey on racism and racial discrimination in the UN system with the participation of UN-ANDI members,  partners and friends. The launch of this report is a significant accomplishment being the first of its kind to highlight issues particularly faced by the Asian community in the UN system.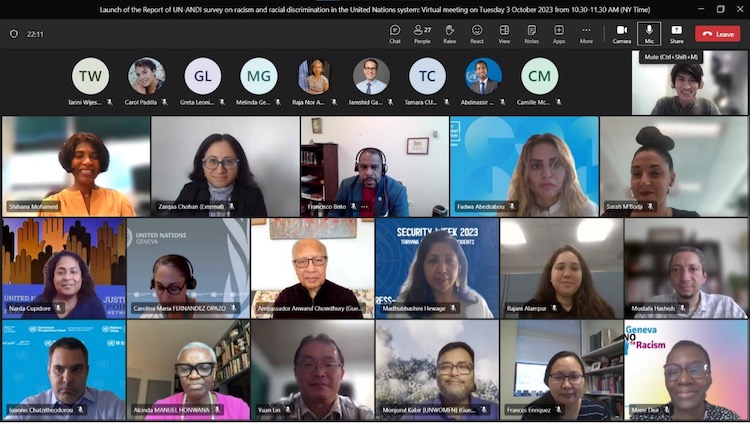 Some of the key findings of the UN-ANDI survey on racism and racial discrimination in the UN system are:
Nearly two-thirds (65 per cent) expressed pride in being seen as Asian in the United Nations. However, a significant proportion were either uncomfortable to be seen as Asian (13 per cent) or were afraid to be associated with being or to be identified as Asian (2 per cent).
The majority of the UN-ANDI survey respondents (61 per cent), or three in every five respondents, noted that they had experienced racism and bias, as well as the distress caused to them in terms of health, career and well-being. They also mentioned their lack of trust and confidence in the system, including existing recourse mechanisms.
Stereotyping of people of Asian origin/descent was identified as the biggest problem faced, indicated by more than half of survey respondents.
More than a third considered limited access to high-profile and visible assignments, career advancement, promotions, and learning and development opportunities as the biggest problem.
Nearly a third identified that being treated as invisible and not being seen or heard in the workplace as the biggest problem they faced.
Other significant behaviour or issues included unfair and biased selection and recruitment processes, identified by 29 per cent, and microaggressions, indicated as problematic by 24 per cent.
Seventeen per cent reported having suffered from biases, harassment, including sexual harassment and discrimination.
Alarmingly, 2 per cent indicated that they had faced physical assault or attacks (including intimidation and threats to use violence), while 13 per cent had faced verbal and/or emotional abuse in the workplace.
Nearly two-thirds identified two or more of the above-mentioned issues as their biggest problems while one-thirds faced four or more of the issues as personnel of Asian nationality/origin/descent in the UN system.
A quarter of respondents perceived that they were not treated the same way as persons sharing the same nationality as them but not of Asian origin/descent (for example, a British national of South Asian origin/descent, an American national of Arab origin/descent or a Canadian national of Chinese origin/descent).
The UN-ANDI survey responses demonstrate that the issues of racism, discrimination and bias are widely experienced by UN personnel of Asian descent, who expressed a need for these issues to be addressed.
One survey respondent described that, "Being discriminated against despite doing very hard work and … sacrifices is really demoralizing and causing mental health issues. It feels like every hard work, sacrifice and hardship I do, doesn't matter because I am Asian."
Another commented, "Racial discrimination is a serious issue but the majority of staff who are from the WEOG region do not fully understand what we are going through in the workplace and in our daily life."
In the organizations of the UN common system, staff from Asia and the Pacific constituted only about 19 per cent of the Professional and higher categories, according to the 2021 report of the International Civil Service Commission (A/76/30).
The largest number of unrepresented (17) and underrepresented (8) countries were in the Asia and the Pacific region. Twelve countries did not have staff in 15 of the organizations, with seven of these countries from Asia and the Pacific.
The report of the Secretary-General's Task Force on Addressing Racism and Promoting Dignity for All in the UN Secretariat confirms that there is a significant lack of diversity in senior managerial positions (P-5, D-1 and D-2) in the United Nations.
Only 16 per cent of staff at the P-5, D-1 and D-2 levels were from Asia-Pacific States as of 31 December 2020. Among promotions at the P-5, D-1 and D-2 levels, only 14.5 per cent of staff were from Asia-Pacific States during the period 2018–2020.
One UN-ANDI survey respondent observed, "Diversity is measured by representation at the highest level. Rich countries create unequal access to opportunities for their citizens at the senior level and entry level on the professional track (unpaid internships, Junior Professional Officers, etc). We cannot create a fairer world by advancing the inequality of access to opportunity."
For another survey respondent, it was "Very important to understand that despite the fact that we have years of experience we are blocked from senior management level positions."
Another survey respondent noted that "I have been really concerned about the underrepresentation of Asian staff in the UN system. I am the only one from Asia in my current office, so have no chance to discuss about the issue in a safe way."
The UN-ANDI survey confirms the existence of clear conscious biases against staff from Asia-Pacific States in selection and promotion systems of the UN organizations. Structural issues in the policies of the UN system enabled this situation historically through the remnants of institutions such as slavery and colonialism.
One survey respondent emphasized that, "Many multinational companies have made so much way on nondiscrimination and protecting values that the UN had set out in 1945… We had no clue that we were to pay a bigger price and struggle even more – against those who think they are superior to us. It is the UN rules and regulations who need to remind those that colonialism has ended and this organization had been exactly established to that end."
UN-ANDI recommends a number of long-term measures under the following two categories of issues based on its survey findings:
Issues related to various forms of racism in the UN organizational culture.
Issues related to the low level of staff representation from the Asia-Pacific region in the Professional & higher categories in the UN organizations, including at the decision-making levels.
UN-ANDI believes that the findings of its survey on racism and racial discrimination and the recommendations are useful to all leaders and managers in the UN system organizations, staff federations, staff unions and staff as well as Member States and other stakeholders striving to create an organizational culture free from any form of discrimination, racism and biases.
Racism and racial discrimination are real and pressing issues within the organizations of the UN system. Racism and racial discrimination are systemic, structural and institutionalized.
UN-ANDI emphasizes that all UN system organizations must develop and implement long-term measures to address racism and racial discrimination through a collective effort involving all stakeholders, including staff interest groups such as UN-ANDI.
*Shihana Mohamed, a founding member and one of the Coordinators of the United Nations Asia Network for Diversity and Inclusion (UN-ANDI) and a Public Voices Fellow with The OpEd Project and Equality Now, is a Sri Lankan national and a Human Resources Policies Officer at the International Civil Service Commission. She prepared this article on behalf of the UN-ANDI.
UN-ANDI is a global network of like-minded Asians of the United Nations system who strive to promote a more diverse and inclusive culture and mindset within the UN system. UN-ANDI is the first-ever effort to bring together a diverse group of personnel (staff, retirees, consultants, interns, diplomats, and others) from Asia and the Pacific (nationality/origin/descent) in the UN system. Please contact via email at UnitedNationsAsiaNetwork@gmail.com to connect or/and collaborate with UN-ANDI. [IDN-InDepthNews]
Photo: United Nations
IDN is the flagship agency of the Non-profit International Press Syndicate.