By J Nastranis
NEW YORK. 19 August 2023 (IDN) — Briefing the UN Security Council, United States journalist Danny Haiphong has claimed that many of the weapons transferred to Ukraine have landed on the black market, to drug cartels, criminal organizations, and "neo-Nazi and fascist elements, many of which now make up parts of the Ukrainian armed forces".
"NATO countries have provided over $40 billion in weapons to Ukraine over the span of the conflict (since 24 February 2022), and we have witnessed these weapons become heavier, deadlier, and more provocative, stymying the possibility of a negotiated settlement to the conflict," Haiphong—an activist with the No Cold War international campaign—told the Security Council on 17 August.
He accentuated that one of the Security Council's primary responsibilities is the maintenance of international peace and stability, and furthermore argued that ongoing arms sales to Ukraine violate the UN Charter, revealing what he characterized as the geopolitical realities that undergird the conflict.
"The United States and its Western partners must learn to operate within the framework of international law just like all other Member States or the world will face the continued threat of instability and war," he said.
According to UN News, the US journalist echoed the concerns of the UN High Representative for Disarmament Affairs, Izumi Nakamitsu. Arms and ammunition transfers to Ukraine have increased rapidly in recent months, alongside alarming reports of deliveries of banned cluster munitions, she told the Security Council.
"The influx of weapons and ammunition into any armed conflict can contribute to the escalation and presents significant risks of diversion and proliferation even after the conflict has ended," she told the UN Security Council, briefing on the latest developments in the context of Russia's full-scale invasion of Ukraine in 2022.
Information through open sources on governments' recent arms transfers to Kyiv include such heavy weaponry as battle tanks, armored combat vehicles, combat aircraft, helicopters, large-caliber artillery systems, missile systems, and uncrewed combat aerial vehicles.
She said the stockpile of weapons [transferred by the US and European allies] includes remotely operated munitions, small arms and light weapons, and their ammunition.
Since her June briefing, Nakamitsu said, reports show that some nations are transferring or planning to transfer weapons, including uncrewed combat aerial vehicles and ammunition, to Russian armed forces for use in Ukraine.
End this 'brutal war'
"Measures to address the risk of diversion of weapons and ammunition to unauthorized end-users and for unauthorized uses are essential for preventing further instability and insecurity in Ukraine, the region and beyond," the UN Disarmament official said.
She called on Member States to consider joining relevant treaties and agreements, including the Arms Trade Treaty, the first ever legally-binding instrument negotiated at the UN to establish common standards for the international transfer of conventional weapons.
Turning to battlefield casualties, she said the rising death toll remains a grave concern.
From 24 February 2022 to 13 August 2023 the Office of the High Commissioner for Human Rights has recorded 26,384 civilian casualties in Ukraine, with 9,444 killed and 16,940 injured. The actual figures are likely to be "considerably higher", she said.
In this vein, she said the UN strongly condemns attacks against civilians and civilian infrastructure and calls for their immediate cessation. Such actions are prohibited under international humanitarian law, she noted.
"The Russian military offensive in Ukraine, in violation of the UN Charter and international law, is hitting the most vulnerable the hardest," she said. "It is imperative to put an end to this brutal war."
Russia weapon testing ground?
Russian Deputy Permanent Representative Dmitry Polyanskiy said Ukraine has been turned into a "testing ground" for weapons, including arms containing depleted uranium and cluster munitions supplied by London and Washington. As a result, high radiation has been detected in some areas, he added.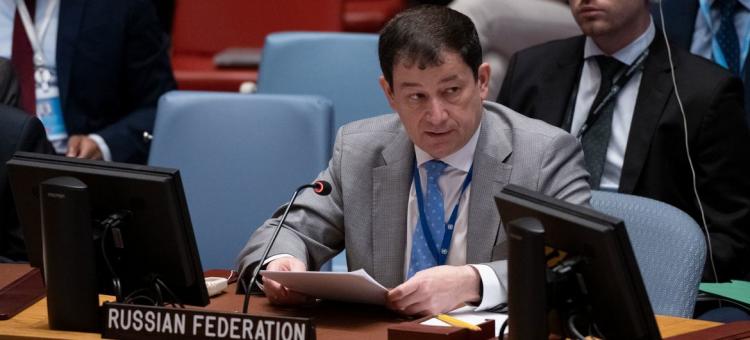 The only result of Kyiv's recent counter-offensive is tens of thousands of deaths of Ukrainian soldiers and the destruction of vast amounts of Western weapons, he told ambassadors. At this point, the full collapse of the Ukrainian military command has even repelled Western mercenaries, who are being recruited from all over the world, he said.
At the same time, Western weapons have surfaced on the black market across the world, as suppliers ignore obligations to track such arms. Meanwhile, Kyiv has been reduced to "begging for weapons" from Western partners, Polyanskiy added.
Existential battle for Ukraine's survival?
Serhii Dvornyk, Counsellor for Ukraine, said the ongoing conflict is "an existential battle for survival".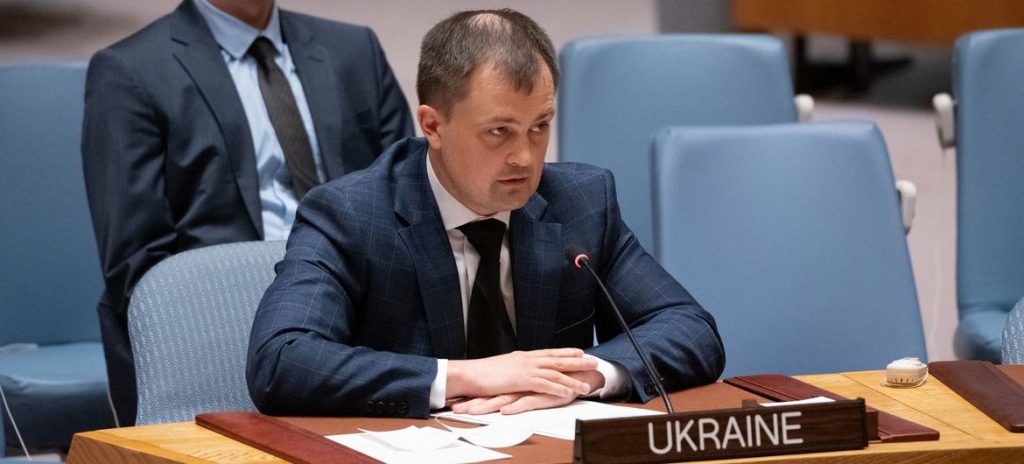 "We will persevere in our fight until every Ukrainian citizen and every parcel of our sovereign land are liberated and Russia faces a military defeat in Ukraine," he declared. All weapons, whether produced by Ukraine or received from its allies, serve this goal "to survive and to stop the dictatorship infected with insane imperial sentiments".
Dvornyk accused Russia of having "studiously cosplayed the Nazi criminals"—dressing up as Nazis themselves—from its annexation of the Crimean Peninsula in 2014. This included even "bombing Kyiv in the early hours as Nazis once did", he said. "The Third Reich never resurged because it was militarily defeated and its political, military, and economic leadership was brought to justice," the Counsellor for Ukraine said.
He was referring to the Nuremberg trials (20 November 1945-1 October 1946), held by the Allies against representatives of the defeated Nazi Germany for plotting and carrying out invasions of other countries and atrocities against their citizens in World War II. He anticipated a "similar fate" for Russia—"the sooner the better, not only for Ukraine, but for all of us," he told the UN Security Council. [IDN-InDepthNews]
UN Photo/Loey Felipe | Izumi Nakamitsu, High Representative for Disarmament Affairs, addresses the Security Council meeting on threats to international peace and security.
IDN is the flagship agency of the Non-profit International Press Syndicate.